"
T
oday, 11 April 2002, 10 countries ratified the Rome Statute for the
ICC
, surpassing the number needed to trigger entry into force of the statute on 1 July 2002. More information and a full update of the website will be provided shortly."
Establishing an institution of such a momentousness despite the lack of support from countries like the US, China and Russia is courageous, risky and right. Better now than in 50 years.
"The long-held dream of a permanent International Criminal Court is nearing reality," United Nations Secretary-General Kofi Annan said recently. "Our hope is that, by punishing the guilty, the ICC will bring some comfort to the surviving victims and to the communities that have been targeted. More important, we hope it will deter future war criminals, and bring nearer the day when no ruler, no State, no junta and no army anywhere will be able to abuse human rights with impunity."
Media:
Guardian
,
BBC
,
CNN
and an
opposing article
in the Washington Times, written by
Jesse Helms
and Zell Miller.
Good pro-ICC argument :
Wouter Basson
is
free
. What the man on the right might have thought in that moment: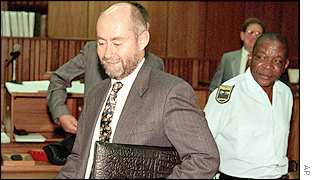 D
elicous: This years
Sonar
programme
.