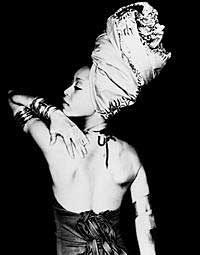 "Erica Wright, 26 February 1971, Dallas, Texas, USA. This uncompromising R&B performer has made rapid progress in her brief career to date. Signed to Kedar Entertainment, Badu effortlessly repeated the label's blueprint for success that propelled D'Angelo to international stardom. Her debut album, Baduizm, was largely self-written, and was co-produced with the Roots, D'Angelo collaborator Bob Power and several old friends and colleagues from her days on the Memphis, Tennessee music scene. Among them was her cousin, Free. Before electing to turn solo, Badu had performed alongside Free in the group Erykah Free. The album's contents, which fluctuated between warm jazz textures and hip-hop and soul rhythms, won almost universal critical praise, with Badu picking up Grammy Awards for Best Female R&B Vocal Performance ("On & On") and Best R&B Album. She also found herself on the cover of the UK's Blues & Soul magazine, and attracted features in magazines as diverse as Vibe, Spin, Time, The Source and Rolling Stone.
The album topped the R&B charts and reached number 2 in the Billboard charts. Her profile was raised by a promotional video clip for "On & On" that was scripted by Badu, and based on the movie The Color Purple. A strong live performer, Badu took the unusual step of releasing a concert album only a few months after her debut. Featuring several tracks from Baduizm alongside cover versions and one new song, the excellent "Tyrone", Live! was another high-quality release from this exceptional singer. Badu then took an extended hiatus to concentrate on raising her newly-born son, although she guested on hits by
Common
, Busta Rhymes ("One") and the Roots (the Grammy Award-winning "You Got Me"), and made cameo appearances in the movies Blues Brothers 2000 and The Cider House Rules. She returned to the charts in autumn 2000 with the hit single "Bag Lady", taken from her sophomore set, Mama's Gun."
www.erykahbadu.com