MENU:






SEARCH:

3 ACTIVE USERS: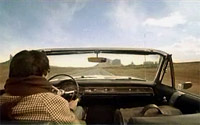 "
BEEP! "Hey, it's me. So, I'm leaving LA tomorrow... I'll pick you up in New Mexico by Tuesday... We have to be in New York by Saturday so... I'll see you soon!" click! Olivier "Twist" Gondry, Michel's brother and visual effects guy for a couple years, begins his quest into direction with a video that sets two guys careening across America in a vintage Chrysler convertible. RES's Sandy Hunter: "The video consists of digitally fast forwarded time lapse 16mm photography shot from a rig set up in the back seat. The entire seven-day journey, shot at one frame per second of driving (one frame per 10 seconds at night) is compressed into less than four minutes." The Gondry spirit shows through in Olivier's editing, synchronizing the song with the scenery and showing tidbits of humanity. We get to see each night's motel stay, a stop for a quick map-check, a car wash. The weather, always beautiful in time lapse, forges ahead throughout the journey. And a variety of landscapes whiz by: skyscrapers, towering bluffs, limitless sky, unending freeway, darkness, city lights.
"
W
ireless Gigabit to the Desktop (aka
wGTTD
) and: "
Search beyond Google: In 1999, you could have said that AltaVista had pretty much finished off the search market. In 1997, it was Inktomi. In 1995, it was Yahoo!. You never know in the search business when there's somebody down the street who is going to make you look like yesterday's news.
" Technology Review
article
also detailing the
Mooter
search engine. Both via
JAFT Journal
.
Sorry, but further comments are disabled for this post.